Gantry 5.3.2 has been released with a number of feature updates including 70+ new supported fonts through the Google Fonts Library and tabs support in particle settings.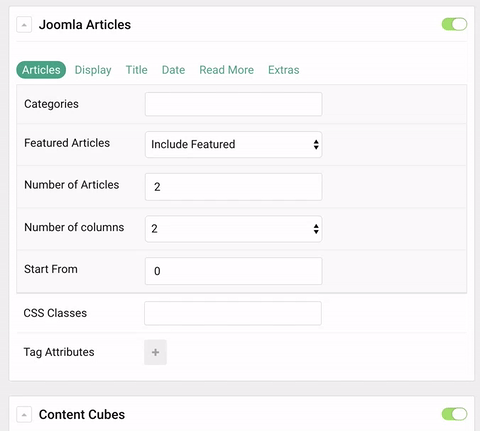 This is an exciting update for Gantry. For developers, it includes a great new system for adding tabs to particle settings popups, so you can better organize a particle's settings so users don't have to scroll to access the entirety of a particle's settings. This is especially useful for larger particles with a ton of options. You can find out more about how this works for developers in the documentation.
The latest version of both the Helium and Hydrogen themes now require Gantry 5.3.2 to function, so we recommend updating Gantry prior to these themes.

Another cool feature you might notice with the latest Helium or Hydrogen theme install is a splash screen that appears when you install Helium for the first time. It will give you the option to load demo content that includes a beautifully-styled front page, or to install the theme as it comes enabling you to build your site from the ground up without having any preset content loaded. This new feature is currently only available on the Joomla version of these themes.
This new feature gives users a choice upon installing the theme as to whether or not they want the menu item and default content for the theme loaded on install or not. Clicking Install Sample Data will enable the theme to install with sample content and menu item(s) just as it would before this update.
There are also two new button variations for Helium: button-square and button-bevel which will give you even more control over the look and feel of your website.
You can see a full list of changes made available in this update in the changelog.
More Information
If you have any problems at all with Gantry 5.3.2, please feel free to let us know by submitting an issue on the GitHub project, or by reaching out via the Gitter chat.
If you would like to check out the latest Gantry builds to get a glimpse at the latest developments in the Gantry project, we invite you to check out our CI Builds available for Joomla and WordPress. Additionally, we have CI builds available for download for the free Hydrogen and Helium themes.